ABOUT ME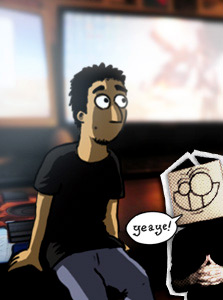 My name is Nicolas Mrikhi and I'm a French CG artist graduated from Supinfocom Arles in 2014 with my film Exode. In 2013, I co-directed the short film The Egyptian Pyramids for the French museum MUCEM.
After a two years Technical Degree (BTS) in Graphic Design, I was admitted directly in third year of digital director degree in the French CG School Supinfocom. During this year I made a one minute CG short film on an imposed theme (cooking).
On this website, you can discover my creations on various fields (CG creation and animation, drawing, graphic and motion design). You can know more about me visiting my blog, my vimeo page or my LinkedIn profile. Enjoy !
Je m'appelle Nicolas Mrikhi et je suis CG artist diplômé de Supinfocom Arles en 2014 avec mon film Exode. En 2013, j'ai co-réalisé le court Les Pyramides d'Égypte pour le musée national MUCEM.
Après un BTS Communication Visuelle, je suis rentré directement en 3ème année de réalisateur numérique à Supinfocom, où j'ai réalisé un film d'une minute en 3D sur un thème imposé (la cuisine).
Sur ce site vous pouvez découvrir mes créations dans différents domaines (création et animation 3D, dessin, graphisme et motion design). Pour en apprendre plus sur moi, vous pouvez visiter mon blog, ma page vimeo ou mon profil sur LinkedIn. Bonne visite !